A Guide to Auto Loan Programs for Educators
Your time, energy and money matters as a teacher. Purchasing a new car can be a difficult task to add to your already busy life, and we all know that teachers don't make the money they deserve! If you're an educator looking to purchase a new car, you may want to consider one of these auto loan programs for educators. With the exception of LendingTree, all of these loan programs require membership with a particular organization in order to apply.
What are the Best Car Loan Programs for Teachers?
Here are 4 Auto Loan Programs for Teachers worth checking out:
National Education Association (NEA)
Teachers Federal Credit Union
Teachers Credit Union Personal Loan Program:
LendingTree Auto Loans
---
If you're a public school teacher, support personnel, or educator at a college or university, you may be a member of The National Education Association (NEA), the largest labor union and professional interest group in the United States. Among NEA's many benefits for members is the NEA Auto Buying Program.
Members of the National Education Association need to take a few easy steps in order to benefit from this program. First, you should log into your NEA Member Benefits account at the top of the Auto Buying Program page. Then, you can search for your dream car using the "Search Any Make or Model" menu. There are over 860,000 pre-owned cars in the inventory. You can use this search engine to look for and price a new or used car or search by your favorite brand. After you enter your information, you will receive personalized pricing information from local auto dealers based on in-stock automobiles that match your search criteria. The NEA Auto Buying Program works with over 15,000 Certified Dealers to get bring you great customer service at the best prices.
According to the website, members can save an average of $3,402 off the Manufacturer's Discount Price. Members who report their purchase can receive up to $2,000 in additional coverage, including up to $1,000 in auto repair reimbursement in the first year.
After you've purchased your new car, you can also take advantage of NEA's Auto and Home Insurance Program! Looking for a short-term rental solution instead? NEA's partnership with Alamo might be worth looking into.
---
The Teachers Federal Credit Union offers an auto loan to members with a repayment term up to 96 months for new automobiles and up to 84 months for used. Since terms and conditions vary depending on whether you are purchasing a new or used car, we'll look at the features of a new car loan first.
For a new car loan, the Teachers Federal Credit Union offers a minimum loan of $5,000-$30,000, depending on the length of your loan. Specific criteria is used to determine whether or not a car is considered new. A new car must be previously unowned, the current model or one year prior to the current model, and have less than 5,000 miles. It must also be purchased from a new car dealer to qualify.
For the used car loan, Teachers Federal Credit Union offers a minimum loan between $5,000 and $20,000 depending on the age of the car. For example, a 73-84 month loan term is offered at a minimum of $20,000 for cars no more than four years old. The same four year old car can be purchased with a 61-72 month loan term when you take out a minimum loan of $10,000. Consult the website for more specific information. The numbers may seem confusing at first, so read the guidelines carefully.
Both new and used car loans come with some common sense restrictions. Cars cannot be purchased from dealers outside the United States, car auctions, or wholesale dealers. Cars also cannot have rebuilt or salvaged titles.
Teachers Federal Credit Union also offers new and used car refinancing. To take advantage of this program, you must have a minimum of 24 months remaining on your original term. To be considered a "new" automobile, the car must be the current mode or one year prior to the current model. The refinance must also be completed within 12 months of the original purchase date.
"Balloon Financing" is a program though Teachers Federal Credit Union in which you actually own the vehicle you are "leasing." You can finance a car for a term varying from 24-60 months, with a "balloon payment" at the end of time period, with an option to sell the car to pay off the balance.
If you're looking to insure your new car, TFCU can help you with that, too! They offer an extended automobile warranty program called Member's Choice AutoCare Plan. They also have a Guaranteed Asset Protection (GAP) program, which can help you in the unfortunate instance that your car is totaled in an accident. This optional program helps you pay the "gap" between your insurance payment and your remaining loan balance.
---
The Schools Financial Credit Union is based in Sacramento, California. Members must live or attend school in Sacramento, El Dorado, Placer, Sutter, Yuba, Butte, Nevada, San Joaquin, Solano, Yolo, Napa or Sonoma county to join. However, there are no residency requirements if you move or change jobs, as long as you keep an account active with a $1 or more balance.
Schools Financial Credit Union offers loans for purchasing a new or used vehicle as well as refinancing for already-existing auto loans, with a rate as low as 3.54% APR. You have many payment options when it comes to your auto loan. You can transfer funds from an existing account at SFCU or any other institution, use the Apple or Android app to deposit a check, visit a branch of the credit union, or send your check via USPS. They make it easy for everyone!
Like Teachers Federal Credit Union, Schools Financial Credit Union also offers GAP protection in case something unfortunate should happen to your car, such as a total loss or theft. They also offer Schools Safety net, an optional debt protection program that protects you in case of serious injury or illness that prevents you from working, or an involuntary loss of employment. In addition, this program can ensure that your loan balance is cancelled if you pass away before paying off your loan, if you choose a certain package. Available packages are: Platinum Plus, Gold Plus, Silver Plus, and Bronze Plus. Consult the website for more information on what is covered under each package.
---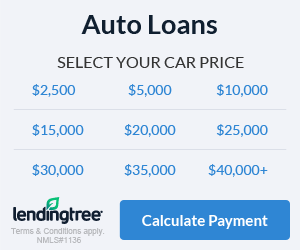 LendingTree is one of the top online loan marketplaces in the country, so it's not surprising that they offer services related to taking out a loan for automobiles, boats, RVs, and even powersport vehicles. You only need to complete a short online form in order to see up to five lenders willing to work with your credit needs. You can then compare offers and pursue the right loan for you.
LendingTree also offers plenty of car purchasing-related goodies on their website. You can read reviews of the top rated auto lenders, including Capital One and Carvana. You can also estimate your monthly car payment using their auto loan calculator, then instantly compare loan offers that match your results. After you've purchased your car, you can also use LendingTree to compare auto insurance quotes as well.
Have bad credit, or not sure what your credit score is? LendingTree provides users with a free credit score report, which is always a good idea to do before you take out any kind of financial loan!
When searching for an auto loan we recommend that you compare rates and other benefits. We urge you to start your comparison shopping on LendingTree today HERE.
---
Explore your Teacher Personal Loan Options Today!
These are just some of the many programs out there that can help you finance the purchase of a car. We encourage you to do research into these organizations and find the right options for you!