A Guide to Personal Loan Programs for Educators
As teachers, we did not join the education force for the money, and sometimes we just need a little extra cash to get us through a tough time or to make a large personal purchase. If this sounds like you, continue reading about our top 6 personal loans for teachers!
What are the Best Personal Loan Programs for Teachers?
Here are 6 Personal Loans for Teachers worth checking out:
LoanPioneer Personal Loans for Teachers
National Education Association (NEA)
Education First Credit Union
Teachers Credit Union Personal Loan Program
LendingTree
SoFi
---
To start, our top recommendation for personal loans for educators goes to LoanPioneer.  With LoanPioneer you can get up a $5,000 personal loan as soon as the next business day!
This money is yours to use as you see fit! Some common uses for a personal loan could include credit card or debt consolidation, car repairs, home improvements, moving expenses, or emergencies.
The process of getting a LoanPioneer personal loan is simple. First, you will need to apply. When applying make sure you know what you are going to use the loaned money for, your current credit score, an exact amount of how much money you will be borrowing. Finally, consider what type of repayment schedule you would prefer. At that point you will be connected to matched with one or more of LoanPioneer's partner providers for personal loans.  At that point, you will have the opportunity to compare different educator-friendly lenders and then choose the best option for your situation.
You will also gain the peace of mind that you will have a fixed interest rate (currently as low as 5.99%) and fixed monthly payments. There is no guesswork or worry of exponentially increasing interest rates or a surprise payment with LoanPioneer personal loans.
We definitely recommend if you are considering a personal loan, start by checking LoanPioneer first.
---
Most teachers have heard of the National Education Association, but many don't know about all of the amazing benefits they offer to members. One of these benefits is a small personal loan specifically for teachers in need.
If you are looking for a smaller personal loan, ranging from $500 to $5,000, then you may want to look into an NEA personal loan. Through this loan program you can use the loaned money to pay off various surprise or planned bills such as auto repairs, the excessive phone bill thanks to your teenager, or medical emergencies.
The application process is 100% painless, taking only a few minutes to complete, and even better there is no application fee! All you need to do is log into your account for NEA Member Benefits. From there you can use their CreditShop where they will ask you a few questions to match you with the best personal loan option for you! Once approved you will receive your funds in a very timely manner. They even boast that most of the time you will see your money in your bank account within 24 hours or less!
From there you can easily view your personal loan account online, as well as view your FICO score! When it comes to repayment the NEA offers an amazing incentive to make payments early. In short, there are no pre-payment penalties, as with some of their competitors.
Overall, if you need a small personal loan and want to take advantage of your NEA Benefits, do so by researching and using the NEA Personal Loan CreditShop!
---
Education First Credit Union is an organization that is dedicated to serving those who work or are associated with the educational community. On top of being an amazing credit union that supports educators, they also offer a variety of personal loans perfect for teachers.
There are two impressive loan programs that we will discuss here: Personal Loans for teachers and Classroom Supply Loans.
The amount that you can borrow, your interest rate, and your payments are all based upon your credit history. If you choose to obtain a personal loan through Education First Credit Union you will go through a simple application process. They will need to know your basic information as well as more detailed information about the loan you are looking to take out. If you are approved for a personal loan, you will have the opportunity to set up a repayment plan within a specific amount of time.
Now, on to the amazing opportunity offered by Education First Credit Union. We have all been there, it is the start of the school year and you need to restock all of the school supplies, decorate your room, buy a new pencil sharpener, and the list goes on and on. But worry no longer! You can apply for the interest-free classroom supply loan that is reserved for teachers only! For this loan, you can borrow up to $1,000 with a 0% APR! The application process is easy, but it does require a $49 fee. Once you are approved for this loan you will need to provide proof that you are a teacher by providing a copy of your teacher contract. From there all you need to do is set up reoccurring monthly payments and you are good to go!
Education First Credit Union is determined to provide a strong financial footing for those brave enough to be a member of the education community. Therefore you should feel confident in using them for a personal loan or a classroom supply loan.
---
Teachers Credit Union can be found in Indiana and Michigan, and they offer many different banking needs including checking and savings accounts, auto loans, mortgages, and personal loans. This Credit Union is all about helping their members prosper financially, perfect if you are looking for a reliable personal loan.
The Teachers Credit Union has very competitive interest rates for both their variable and fixed-rate loans. Their loans can be repaid monthly for up to 36 months. Their application process is also very easy and can be completed at one of their service centers or online!
Just make sure you have all of your personal information and loan information available to make the application process that much smoother. Once approved you can use your personal loan for just about anything. Teachers Credit Union understands that like can get messy and complicated and that a little extra cash can ease the burden. This is also apparent in the fact that you can access the money from your loan whenever you need it. You can even go up to a TCU ATM and take out cash from your loan.
This Credit Union was originally built for teachers and has grown to support more than 300,000 members. Teachers Credit Union is there for those educators who need some financial stability.
---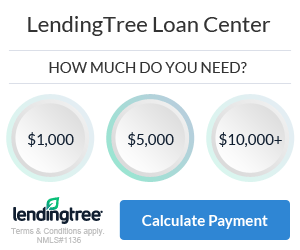 If you are looking for a larger loan, LendingTree can offer you personal loans anywhere from $1,000 all the way up to $50,000.
While the ease of use for LendingTree is a huge plus, the many benefits they offer sweeten the deal even more! To start, they give you the freedom to use your personal loan for a variety of reasons. This allows you for example to upgrade your at-home gardening space or to pay for unexpected medical expenses.
You will also gain the peace of mind that you will have a fixed interest rate and fixed monthly payments. There is no guesswork or worry of exponentially increasing interest rates or a surprise payment with LendingTree personal loans. Last, but certainly not least, when using LendingTree you don't have to risk any collateral. They offer signature loans which usually are unsecured.
We definitely recommend if you are considering a personal loan, check LendingTree. LendingTree will allow you to see quotes from various lenders which will help when comparison shopping.
SoFi is a finance company that is all about making the process of getting a personal loan easy. From their simplistic application process to their no fees and low rates, SoFi is a great option for teachers.
In order to apply for a personal loan through SoFi, you will need to complete an online application. It should only take a few minutes. If you have any questions during the application process you can communicate with a live customer service representative at any day or time. Aren't quite ready to pull the trigger on a personal loan? Then you can use SoFi's Pre-Quality feature to find a rate that you qualify for with no strings attached.
On top of amazing customer service, SoFi also offers outstanding personal loan options. If you choose the AutoPay option you can take advantage of APR rates from 5.99%-17.67%. You also won't pay any fees! Goodbye late, origination, and pre-payment fees, because you won't see them with a SoFi personal loan.
SoFi also offers unemployment protection. This means that if you were to lose your job your loan payments will be deferred until you are able to get a new job!
If you are looking for a flexible loan that ranges from $5,000 to $100,000, with a 2-7 year term agreement, competitive APR rates, and no fees, then SoFi is the perfect place to get your personal loan.
Plus, if you apply for a personal loan from Sofi and are approved you will get $100 when your loan is funded!
---
Explore your Teacher Personal Loan Options Today!
There you have it, our 6 best personal loan programs for teachers! We truly hope you have found this list helpful.
Again, when searching for a personal loan we urge you to compare rates and other benefits. We highly recommend that you start your comparison shopping with Loan Pioneer today HERE.